Mason's Protein Brownie Recipe!
Posted Jan 18, 2021 at 07:50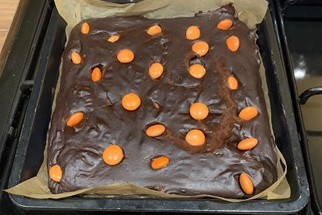 For a healthy alternative to a late night treat, here is a chocolate brownie protein recipe. Great for anybody who is dieting or tracking Macronutrients (Find below) this recipe will help you get your chocolate hit without completely destroying your diet. This one is tried and tested by Mason taken from an old instagram post by Ross Edgley. Ingredients; 400ml Cold water 3 scoops (i used PHD Smart whey Peanut butter cup flavour) 3 Tbsp Stevia 40g Cocoa powder 60g self raising flour Additional toppings as required (not calculated into calories or macros!) 1. Line small square baking tray with greaseproof paper and set oven to 180 (gas mark 4) 2. Whisk water, protein powder, stevia,cocoa and flour in mixing bowl until thick and smooth 3. Place brownie mixture into baking tray and place in oven for 15-20 minutes 4. For the last 2 minutes add in additional toppings so they melt 5. Take out of oven and finish decorating as you see fit 6. Leave to cool/set on side for 10-15 minute 7. Cut into 9 even pieces and ENJOY!