Spicy Beef Noodle Bowl
Posted Jul 19, 2021 at 09:45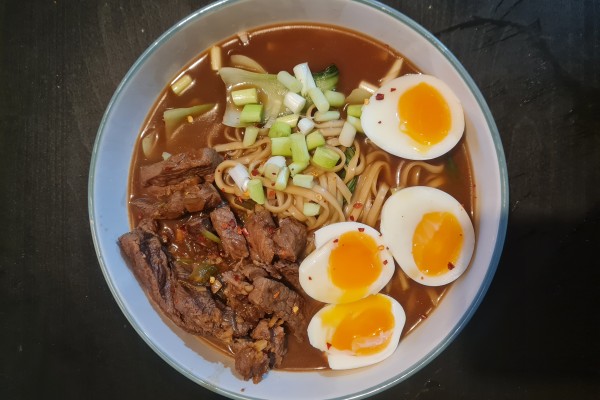 Spicy beef noodle bowlOver the last few months I've been experimenting a lot more in the kitchen, and I wanted to share with you one of my new favourite dishes! If you're a lover of Japanese cuisine, or just looking to try something new, then why not give this recipe a try! This recipe makes enough for 2 people, so scale up or down to suit you.
Ingredients:
3 thin skirt steaks (can use beef mince or other steak)4 eggs2 pak choi 3 tsp chilli flakes (more if you want some extra spice)1 tbsp sesame oil 2 tbsp light soy sauce3 cloves of garlic (finely chopped)Knob of ginger (finely chopped)6 spring onions (finely chopped)1L good quality chicken stock (don't skimp on this one, you'll be drinking it out of the bowl at the end!)Noodles of your choice (I use Yutaka Udon noodles as they're delicious and come pre-portioned!) Step 1Boil your eggs for 6 minutes (soft boiled), then place into a bowl of ice water to chill for 5 minutes before peeling.
Step 2Add some oil to a pan and get it nice and hot. Cook your steak for 45-60 seconds each side, then leave on a plate and cover with tin foil to rest for 5 minutes. (This will give you a medium-rare cook depending on the thickness of the steak, adjust the cooking time depending on your preference).
Step 3Finely chop the garlic and ginger and add to a large saucepan or wok along with the soy sauce, sesame oil, chilli flakes, and ⅓ of the spring onions. Slice the steaks and add to the pan and heat gently while you complete step 4.
Step 4Add the chicken stock to a large saucepan and bring to the boil, then reduce to a simmer and add the noodles (each type of noodle has a different cooking time, follow the instructions for the ones you're using). Separate the leaves of the pak choi and add to the stock and noodles for the last 2 minutes.
Step 5Now you're ready to dish up! Add some stock to your bowl, then add the noodles and pak choi. Next, add the steak and drizzle the remaining sauce over it. Add the eggs and cut in half once in the bowl. Top with the remaining spring onions and some extra chilli flakes and enjoy!